UK Status



Resident. Common S,E,C.

Montgomeryshire Status

A relatively uncommon species, recorded mainly in the eastern side of the county.



Wingspan :

M & F, 45-78mm.



Confusion species



None.



Flight time (Montgomeryshire)



Habitat

Open woodland and scrub, gardens.

Foodplant

Heart-wood of various broadleaf trees. Sometimes in young stems <10cm in diameter.

Lifestage data

Eggs attached singly or in small batches to stem. Larva overwinter 2-3 years and pupate beneath bark. Larva Aug-May.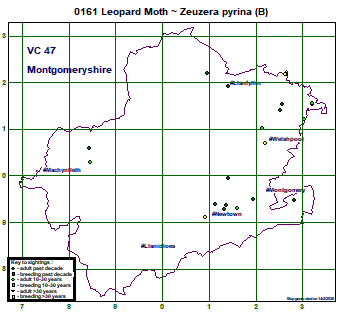 Click map for larger image