UK Status



Resident. Nat. Scarce B

Montgomeryshire Status

Recorded once only in 1976 from the east of the county. Could still be present.



Wingspan :

M & F, 19-27mm.



Confusion species



Six-belted Clearwing, Orange-tailed clearwing.



Flight time (Montgomeryshire)



Habitat

Open woodland especially where trees have been felled.

Foodplant

Mainly pedunculate oak but sometimes other broad leaved trees as well.

Lifestage data

Eggs laid on stumps of recently felled trees. Larva overwinter (probably once) and feed between bark & the last 2 years of growth.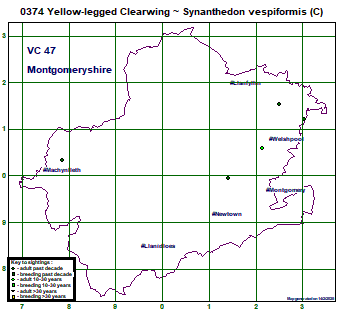 Click map for larger image