UK Status



Resident. Common S,S(N)

Montgomeryshire Status

A rarely recorded species found only in the extreme west of the county.



Wingspan :

M & F, 30-41mm.



Confusion species



Ground Lackey.



Flight time (Montgomeryshire)



Habitat

Open, sunny sites.

Foodplant

Broadleaved trees.

Lifestage data

Overwinters as eggs attached in bands around a twig, then living gregariously in webs. Larva April-June. Pupates in a cocoon among low stems or plant debris.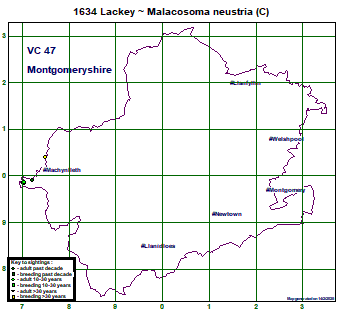 Click map for larger image