UK Status



Resident. Common

Montgomeryshire Status

An uncommon species but has been recorded in most of the county.



Wingspan :

M & F, 28-31mm.



Confusion species



The male Dark Bordered Beauty.



Flight time (Montgomeryshire)



Habitat

Rides and clearings in damp woodlands, also found in some gardens.

Foodplant

Sallows, grey willow, black poplar, alder and hazel.

Lifestage data

Overwinters as an egg on the foodplant. Larva early May-mid July. Pupates amongst leaves around the foodplant.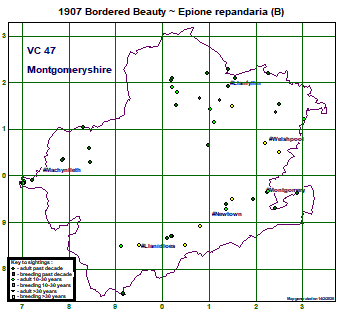 Click map for larger image