UK Status



Migrant. Scattered records

Montgomeryshire Status

A rare visitor. The last record was a dead specimen in 2000, it was handed into the MWT office. (Casual Records Source :BIS)



Wingspan :

M & F, 94-120mm.



Confusion species



Privet Hawk-moth.



Flight time (Montgomeryshire)



Habitat

It can be found anywhere.

Foodplant

Field bindweed and hedge bindweed.

Lifestage data

Unable to overwinter in this country. Larva can occasionally be found. Pupates underground.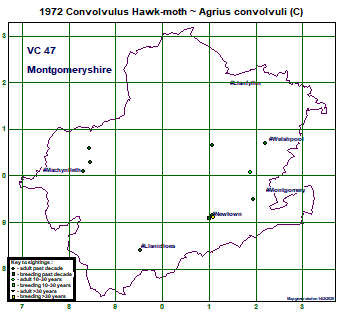 Click map for larger image