UK Status



Resident. Common

Montgomeryshire Status

A sparsely recorded species, probably because the female is flightless and the male isn't strongly attracted to light.



Wingspan :

M, 35-38mm. F, wingless.



Confusion species



Scarce Vapourer.



Flight time (Montgomeryshire)



Habitat

Many different habitats.

Foodplant

Most broadleaf trees and shrubs.

Lifestage data

Overwinters as an egg in a batch of several hundred laid on the empty cocoon of the female which is attached to some part of the foodplant. Larva May-early Sept.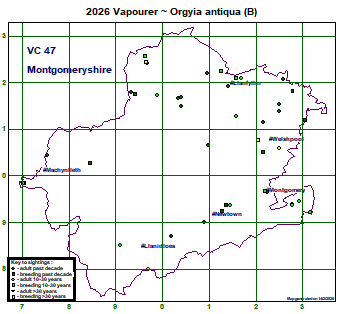 Click map for larger image