UK Status



Resident. Common

Montgomeryshire Status

A very common & sometimes abundant species which is found throughout the county. This is by far the most numerously recorded macro moth in the county and the highest recorded catch for a single night was 1829 individuals!



Wingspan :

M & F, 50-60mm.



Confusion species



Lunar Yellow Underwing.



Flight time (Montgomeryshire)



Habitat

All habitats.

Foodplant

A wide range of herbaceous plants.

Lifestage data

Overwinters underground as a larva. Eggs are laid in large batches from July onwards. Larva August-early spring. Pupates underground in the spring.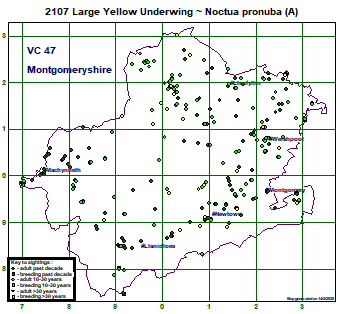 Click map for larger image