UK Status



Resident and occasional migrant. Local S,WC.

Montgomeryshire Status

Quite an uncommon species, which has only been recorded from the western side of the county in recent times.



Wingspan :

M & F, 28-32mm.



Confusion species



Small Quaker.



Flight time (Montgomeryshire)



Habitat

Oak woodland and mature hedgerows.

Foodplant

Mainly oak leaves.

Lifestage data

Overwinters as a pupa in an underground cocoon. Larva late April-mid June, living in gregarious webs when small.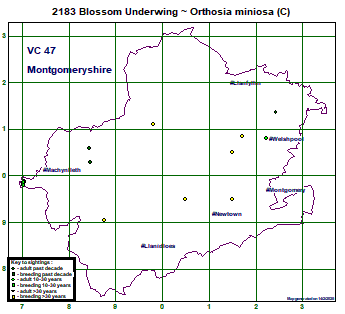 Click map for larger image