UK Status



Resident. Local

Montgomeryshire Status

A fairly common but local species found throughout the county. This species is probably overlooked a little due to its similar appearance to the Acleris species (micro moth).



Wingspan :

M & F, 28-32mm.



Confusion species



Sallow Nycteoline, Eastern Nycteoline, Acleris cristana and Acleris hastiana.



Flight time (Montgomeryshire)



Habitat

Broadleaved woodland and parkland.

Foodplant

Oak.

Lifestage data

Overwinters as an adult. Larva May-July and September.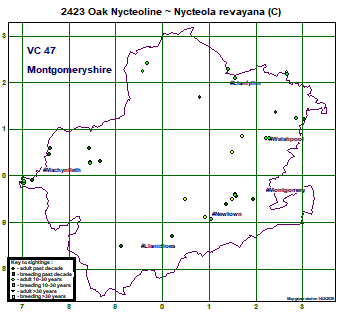 Click map for larger image