UK Status



Resident. Widespread throughout the British Isles.

Montgomeryshire Status

The most commonly seen Micropterix species in the county, can be abundant, but still generally overlooked.



Wingspan :

M & F, 7-10mm.

Confusion species

Forms of Micropterix aruncella.

Flight time & Voltinity

(Univoltine)

Habitat

Damp parts of woodland rides and clearings.

Foodplant

Unknown.

Lifestage data

Leaf miner. Larva Unknown. Pupa formed in a tough silken cocoon. (Mines of some species are similar, care is required with identification).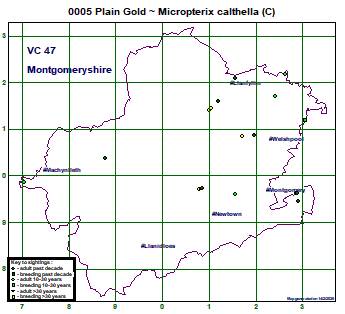 Click map for larger image