UK Status



Resident. Widespread and locally common in the southern half of Britain.

Montgomeryshire Status

First recorded in 2014 at Llanymynech Hill in the east of the county. A new record for north Wales.



Wingspan :

M & F 8-9mm.

Confusion species

Antispila treitchkiella.

Flight time & Voltinity

(Univoltine.)

Habitat

Wherever the foodplant is found.

Foodplant

Dogwood.

Lifestage data

Leaf miner. Eggs underside of leaf. Larva forms short mine along leaf margin, leading to large blotch. Pupates on, or in soil.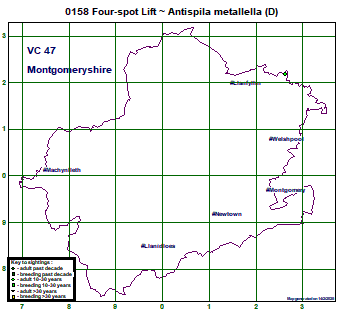 Click map for larger image