UK Status



Resident. Widely distributed and common throughout the British Isles.

Montgomeryshire Status

Fairly common, records from across the county.



Wingspan :

M & F, 12-14mm.

Confusion species

None.

Flight time & Voltinity

(Univoltine?)

Habitat

Wherever the foodplant is found.

Foodplant

Willow, sallow, poplar, aspen.

Lifestage data

Leaf miner. Eggs laid on underside of leaf. Larva forms a long gallery which develops into a blotch, then forms cones of successive sizes to feed within. Pupates in a pale green cocoon spun under the leaf.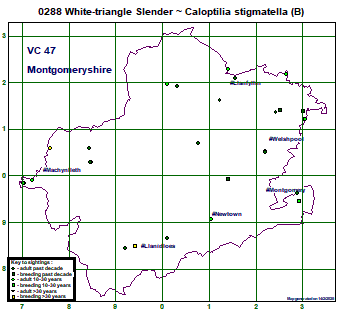 Click map for larger image