UK Status



Resident. Abundant throughout the British Isles as far north as Perthshire.

Montgomeryshire Status

Recorded from scattered sites across the county.



Wingspan :

M & F, 9-11mm.

Confusion species

Many species of Parornix are very similar, care should be taken with identification.

Flight time & Voltinity

(Bivoltine)

Habitat

Gardens, hedgerows and woodland.

Foodplant

Hawthorn and wild service-tree.

Lifestage data

Leaf miner. Eggs laid on leaf underside. Larva forms a gallery into a blotch, then constructs a cone, feeding within. Pupates in white cocoon under turned down leaf edge, leaf litter or an old bird nest.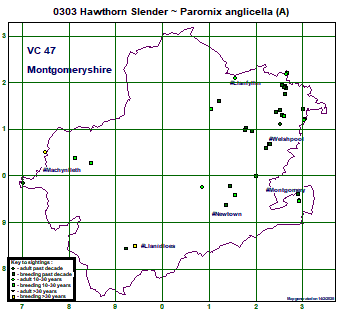 Click map for larger image