UK Status



Resident. Widespread and often common throughout the British Isles.

Montgomeryshire Status

Found at scattered locations throughout the county.



Wingspan :

M & F, 10-12mm.

Confusion species

A. goedartella.

Flight time & Voltinity

(Univoltine)

Habitat

Wherever the foodplant is found.

Foodplant

Birch and alder.

Lifestage data

Bud miner. Eggs laid on the foodplant. Larva feed in a bud and later a catkin where it overwinters. Pupates on the ground or under bark.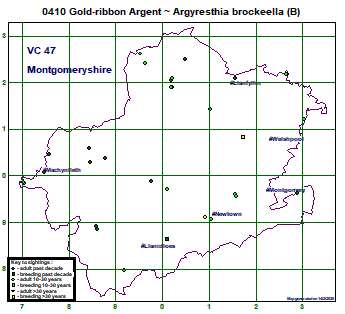 Click map for larger image