UK Status



Resident. Found in the southern half of Britain, more common in the south.

Montgomeryshire Status

First recorded in the east of the county at Middletown in 2012.



Wingspan :

M & F 13-16mm.

Confusion species

Care should be taken as other species of Coleophora can look very similar.

Flight time & Voltinity

(Univoltine.)

Habitat

Fens, bogs and damp woodland.

Foodplant

Sallows and Willows.

Lifestage data

Case-bearing. Larva bores into expanding leaf buds, and later skeletonises young leaves. It builds a 'pistol case' from silk and fragments of leaf and frass. Pupates inside the case, on the upper surface of a leaf.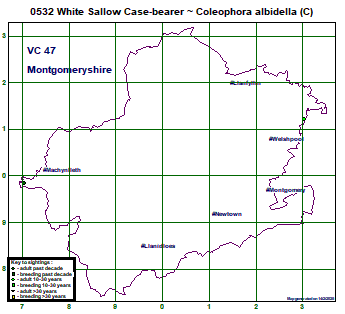 Click map for larger image