UK Status



Resident. Fairly common and widespread throughout the southern half of Britain.

Montgomeryshire Status

First recorded in 2013 at Middletown in the east of the county. This was only the fifth record for north Wales.



Wingspan :

M & F 25-30mm.

Confusion species

A fairly distinctive species.

Flight time & Voltinity

(Univoltine.)

Habitat

Ditches, marshes, fens and bogs.

Foodplant

Common reed, sweet reed-grass & sedges.

Lifestage data

Eggs laid on foodplant. Larva feeds in rolled shoots. Has strange habit of cutting a small piece of leaf on which it will float to its next feeding site. Pupates in tough cocoon at feeding site.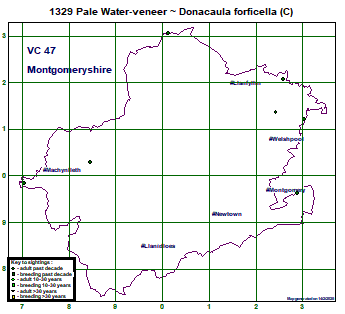 Click map for larger image