UK Status



Migrant. Numbers and distribution can vary greatly from year to year.

Montgomeryshire Status

Scattered records from across the county.



Wingspan :

M & F, 20-24mm.

Confusion species

None.

Flight time & Voltinity

(Continuous)

Habitat

Gardens, waste ground and sea coasts.

Foodplant

Various herbaceous plants.

Lifestage data

Spinning. Eggs laid on foodplant. Larva first lives in a turned down leaf margin and later amongst spun leaves. Pupates in a cocoon made from a partially cut section of leaf, folded and lined with silk.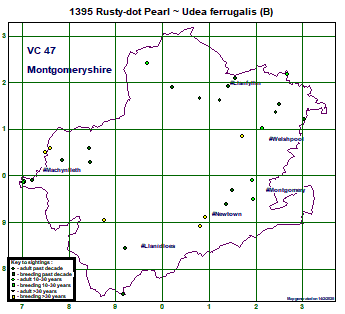 Click map for larger image