UK Status



Migrant. An uncommon migrant found chiefly along the southern seaboard of England, numbers vary each year.

Montgomeryshire Status

Records from Commins Coch in 2006 & 2013.



Wingspan :

M & F, 27-31mm.

Confusion species

None.

Flight time & Voltinity

(?)

Habitat

Could turn up anywhere.

Foodplant

Abroad it feeds on Jasmine and olive.

Lifestage data

Eggs laid singly on foodplant. Larva feeds openly on leaves. Pupates in a cocoon formed amongst the leaves of the foodplant.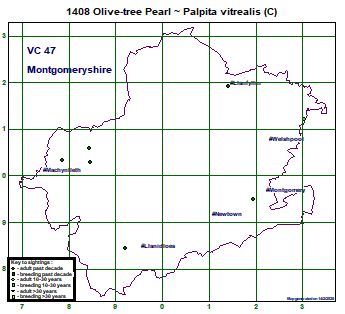 Click map for larger image